The Biometric Authentication project is one of my all time favorites. Not only I had the pleasure to work with an amazing cross-functional UX team, development and product teams; but also enjoyed ideating, testing and strategizing the designs for this mobile native application from the start. My role in this project was Visual Design Lead and interaction design support, motion graphic artist and overall production for the first 8 sprints.
In this project, the UX Team had to use the legacy pilot application and iterate both flows and look and feel to match Wells Fargo Commercial Banking's new experience.
The user needs met were, effective sign on without using their RSA Token on mobile and removing the stress of entering case sensitive, complex passwords by simply using their eye print, face recognition or voice recognition to access their mobile application.
The animation below is shown initially when the user opens his/her CEO app in his mobile device. Then a walkthrough is launched to show the user the great benefits of Biometric Authentication and includes a call to action so users enroll to the new authentication options. 
I created these screens and animations using Photoshop in gif format to show design intent to the iOS app developer, later used Principle to check exact second and transition style.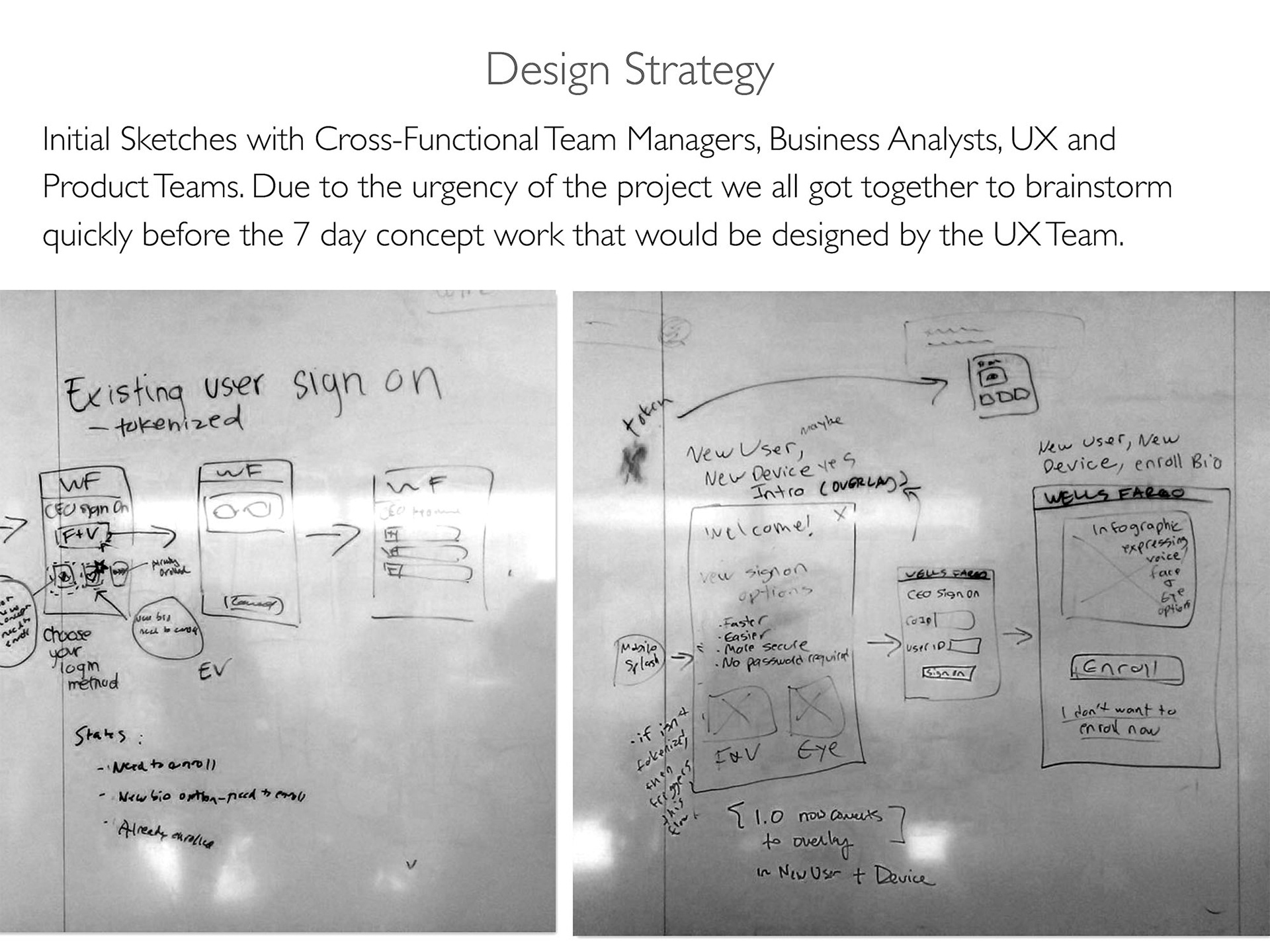 I collaborated with the UX Core Team, Product, Technology and visual design director to define strategy, translate business requirements, personas and user research findings into strong visuals.
We sketched a variety of ways to show an initial message to the user, showcasing Biometric Authentication options. The end result was a colorful walkthrough shown above and below, using animations to convey the actual Biometrics Sign On experience and a call to action so users enroll faster.
Cross-Functional Team Collaboration
I worked with the UX team to define clean visuals and concepts in 7 days, taking user research feedback and executive reviews. Delivered Invision Prototype with micro-interactions and championed animations/transitions and timings, various visual design comp options, different structures in wireframes, and in parallel developed prototypes for testing and icon/visual assets for production from scratch, creating a visual design specification and asset delivery standard for iOS native applications. Each design sprint consisted on 3 weeks, ideating, getting approval from stakeholders through communication of design intent and creating assets for production working closely with the development team.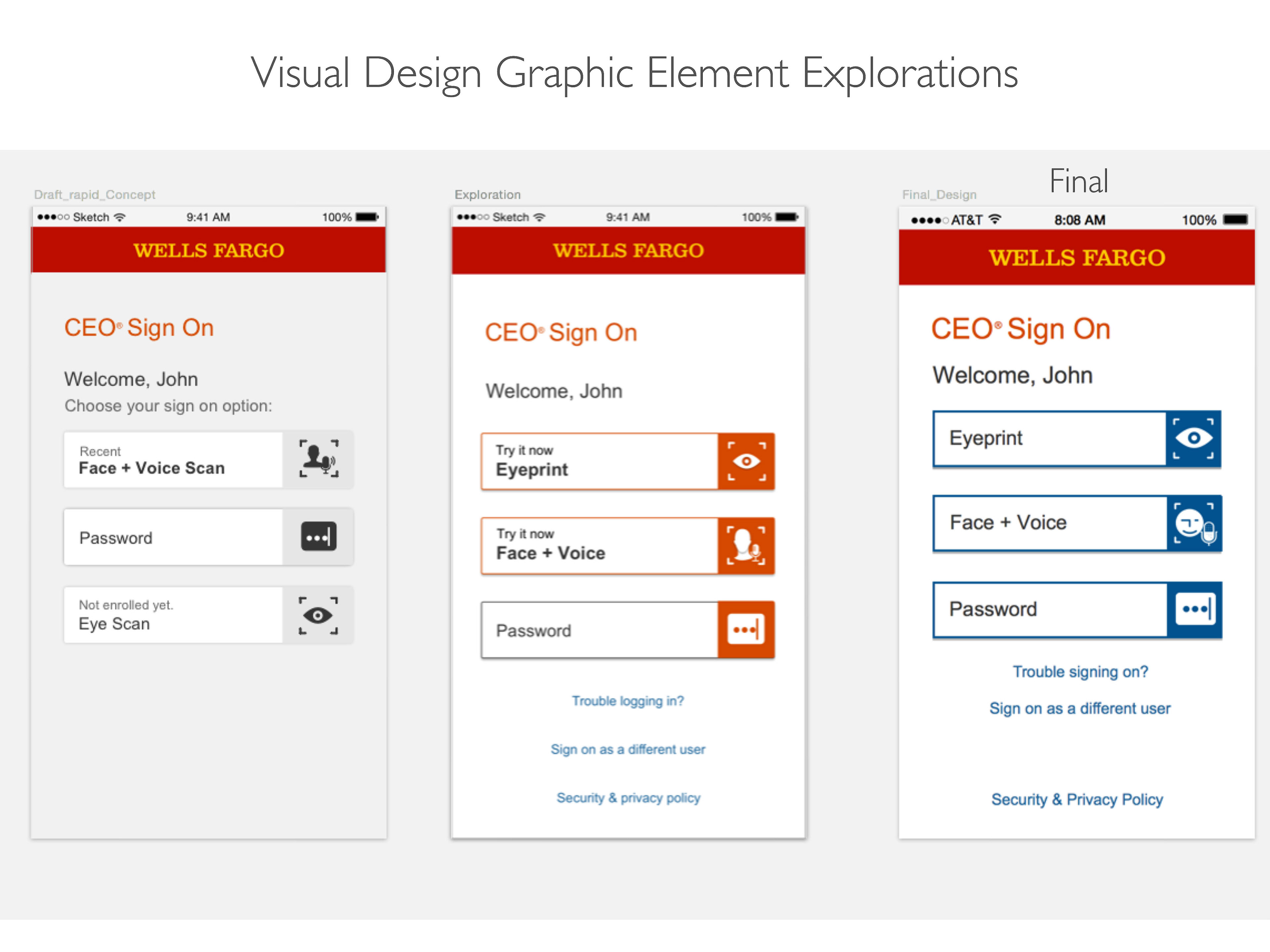 I worked on all the design explorations shown below, proposed to product owners and teams, adhering to Wells Fargo CEO visual standards. I interpreted most screens that were later added to the task flows also proposed interactions for these.
I worked all these screens and proposed to management and product owners. The visuals shown below were the ones chosen in the end.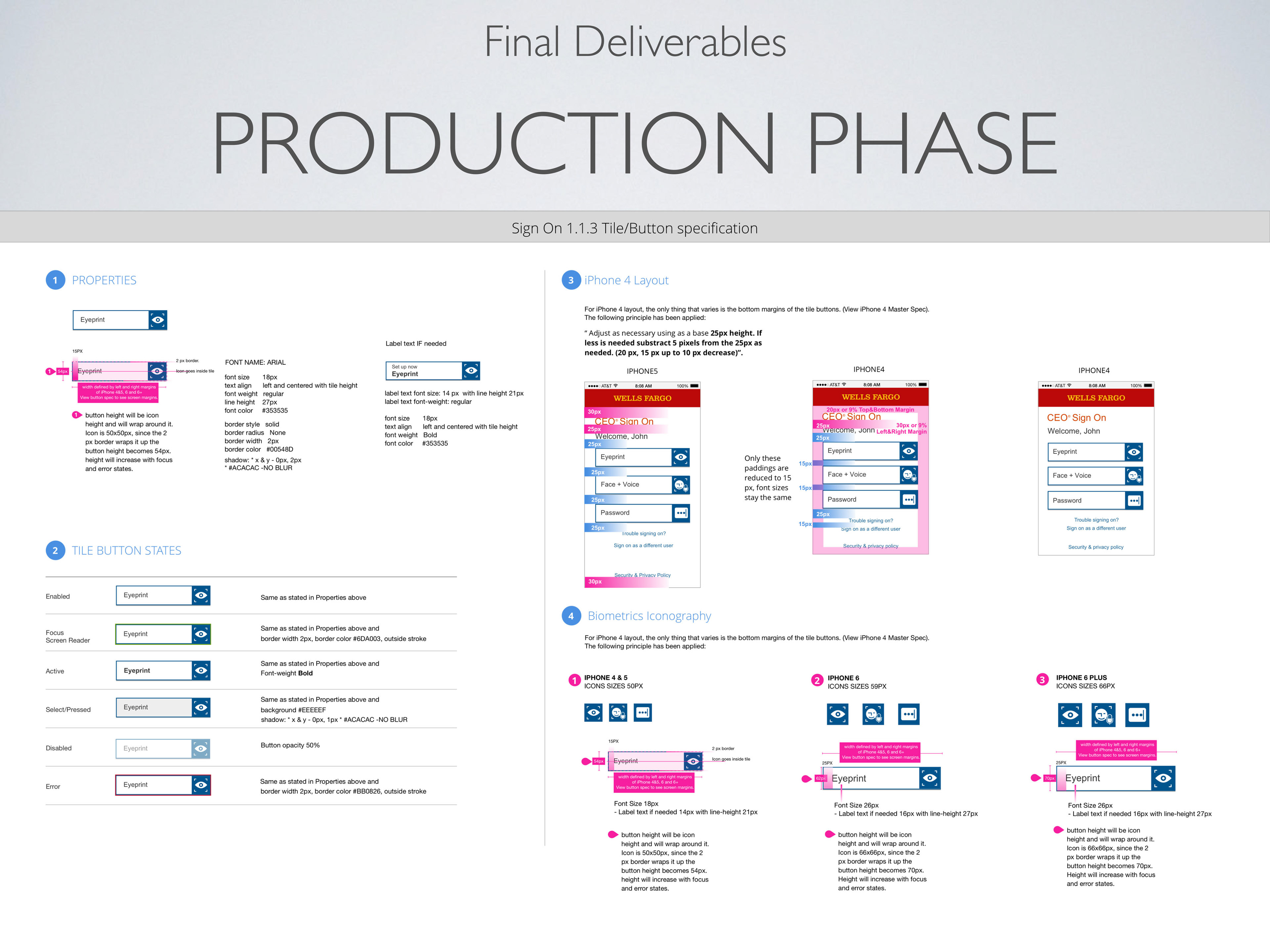 I created the visual design on the screens and also worked on these detailed specs using Sketch- for prototyping I used Invision.